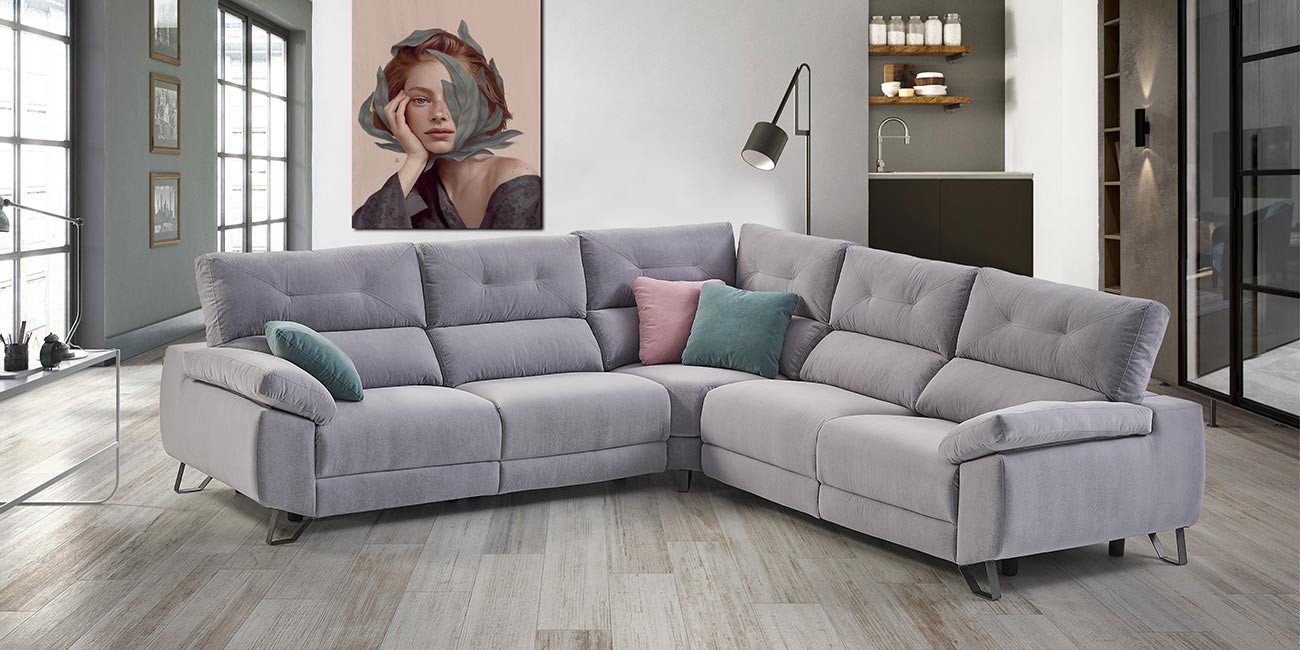  
The Goya Relax sofa is a model that stands out for its modern and functional design, with an extensive modularity, ideal for personalising your sofa and adapting it to your space. The relax modules (there are various dimensions) can be combined with fixed modules (also available in various dimensions).
The relax stays hidden in such a way that the sofa appears to be fixed (relax with hidden heel pad). Wall 0 relax, so the sofa stays against the wall when you open the mechanism, meaning you don't need to have more room behind it. Relax buttons hidden between the seats, completely practical since your hand doesn't move while the relax opens. On the other hand, if the button was visible on the arm, as the mechanism opens, the hand gets further away and it would be much less comfortable. It is designed completely for your comfort!
The Goya Relax model can be combined with a chaise longue chest to store your things, fixed chaise longue terminal or corner module. Other characteristics of this model of sofa are its fibre backrests and armrests that provide a maximum degree of comfort, its soft seat with 4 centimetres of viscoelastic and the removable covers of its backrests and seats (except the footrest panel).
To enjoy time to read or watch television, the Goya Relax model has foldable chrome headrests with multiple positions to suit your needs, with double stitched decorative stitching. The legs are chromed by default, but it also has the option of anthracite-colored legs.. Furthermore, there are matching pouffes to complete the design of your sofa.
"A modern relax sofa with soft viscoelastic seat and foldable headrests that will leave you K.O."
Data sheet
Structure

Solid pine wood, particle board and MDF Steel chassis on motorised relax models.

Seaters

Polyurethane foam of 30 Kg with removable covers. Soft... + 4 cm layer of viscoelastic.

Backrests

Removable covers on siliconised hollow fibre.

Cushions

Decorative cushions are not included, just the armrests in siliconised hollow fibre.

Mechanisms

In seats with motorised relax mechanisms, "wall 0" and hidden button. Folding chrome multipoint 100o headrests, ideal for reading and watching TV Opening of chaise longue - chest with hydraulic gas pumps.

Finishings

Edge stitching in fabric, leather and leatherette. Chrome feet of 10 cm in height by default. Option of metallic feet with anthracite. This model CANNOT be manufactured with wooden feet.

Combination

FIXED MODULES CAN BE COMBINED WITH RELAX MODULES BUT THEY CANNOT BE COMINED WITH PULLOUT MODULES.