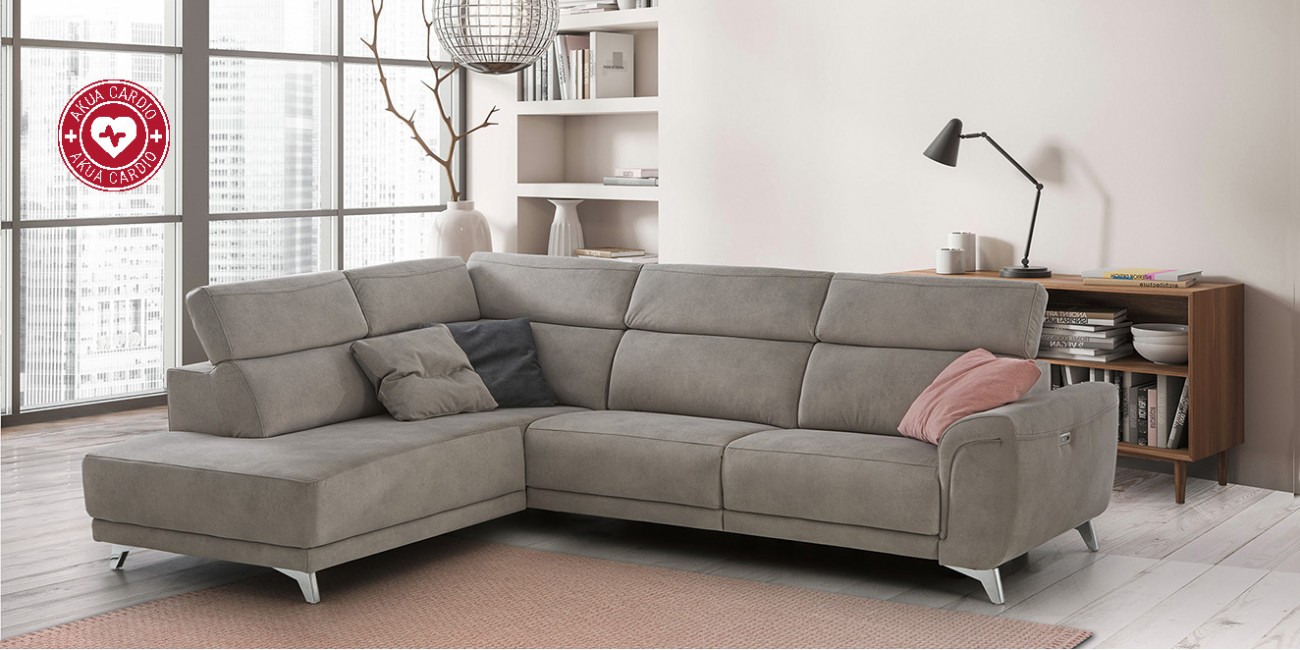  
The Akua Cardio sofa has an innovative relaxation system that allows you to raise your legs slightly above the height of your heart, facilitating blood circulation and improving not only our comfort, but also our health and quality of life. Being heart-healthy softens blood pressure helping us combat stress. This position facilitates the relaxation of the lumbar muscles, relieves fatigue and swelling of the feet and legs, and the tension accumulated in the joints.
It is designed with high quality materials. Its high resilience and density seats are made of super-breathable HR45 HIPERFLEX 45 kg/m3 viscoelastic rubber, which provides perfect firmness, support, resistance and flexibility. It is a totally ergonomic sofa, it adapts to different morphological structures, also having an extra comfort length of 158 cm. Now rest is healthier with the new Akua Cardio from Mayor.
"This pull-out sofa with a modern design is our top seller. Its cocooning and soft seat will immerse you in a pleasant rest. If you also use the pull outs, you won't go to bed to sleep..."
Data sheet
Structure

Solid pine wood, particle board and MDF

Seaters

Polyurethane foam of 30 Kg with removable covers. Soft + 6 cm layer of viscoelastic.

Backrests

Removable covers in siliconised hollow fibre.

Cushions

Decorative cushions are not included, just the armrests in siliconised hollow fibre.

Mechanisms

Seats with sliding tray. Foldable chrome headrests that recline 105º. Opening of chaise longue - chest with hydraulic gas pumps. Ideal height for cleaning robot (10 cm).

Finishings

Stitched with double seam in leather and leatherette. Chrome feet of 10 cm in height.

Opcional