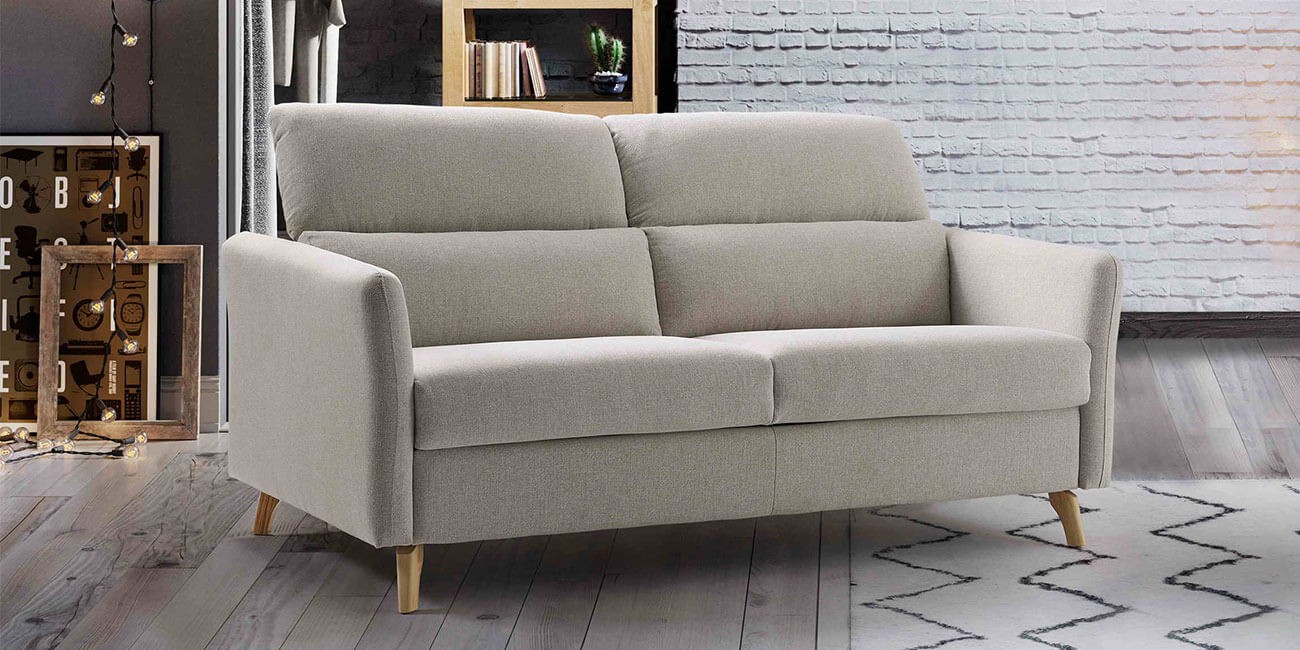  
The Kenzo sofa bed from Mayor Tapizados is a sofa bed with a Nordic design with an original Italian mechanism with metal mesh and webbing on the seat. It has folding chrome headrests with multiple positions, which makes it the ideal sofa for reading or watching your favourite television channel. Its high backrests, hollow fibre back cushions and soft foam headrests provide great comfort when you sit down and its seats, backrests and headrests have removable covers to facilitate cleaning.
It is not necessary to remove the seats and backrests to open the Kenzo sofa bed, so the process of opening it out is much easier. It comes with a mattress of 140 centimetres in width by 200 centimetres in length Although it also has the option of a larger mattress, with 160 centimetres in width. The mattress has a thickness of 12 centimetres and is sealed and padded on both sides with rubber of HR35Kg. Optional mattress of HR35Kg + 3 centimetres of viscoelastic.
The arms and rear are removable (with guide system). There is the possibility of manufacturing this sofa without the bed. Bear in mind that the fixed sofa has different dimensions. It can be combined with matching fixed chaise longue and its chrome feet of 13 cm in height make the Kenzo sofa bed an ideal type of sofa for a cleaning robot. The Kenzo sofa bed has the option of chrome feet.
"Dress your living room with a Nordic, elegant and welcoming touch. Nobody will know that your sofa hides a really comfortable bed with high quality mattress"
Data sheet
Structure

Solid pine wood, particle board and MDF

Seaters

Polyurethane foam of 30 Kg with removable covers. Soft.

Backrests

Removable covers. Siliconised hollow fibre in back cushions and soft polyurethane 22 Kg foam in headrests.

Cushions

The fixed sofas and sofa beds do not include decorative cushions. 2 cushions of 65 x 50cm. and 2 cushions of 45 x 45cm in compositions with chaise longue.

Mechanisms

Foldable chrome headrests that recline 105º. ORIGINAL Italian system with metal mesh and webbing on the seat. It is not necessary to remove the seats and backrests to open up the bed. Sofa bed with a guide system on the arms and rear.

Finishings

Edge stitching. Wooden feet with of 13 cm in height. Ideal height for cleaning robot. Option of chromed feet. Martina.

Mattresses

SEALED MATTRESSES PADDED ON BOTH SIDES WITH EDGING AND DOUBLE TRIM.