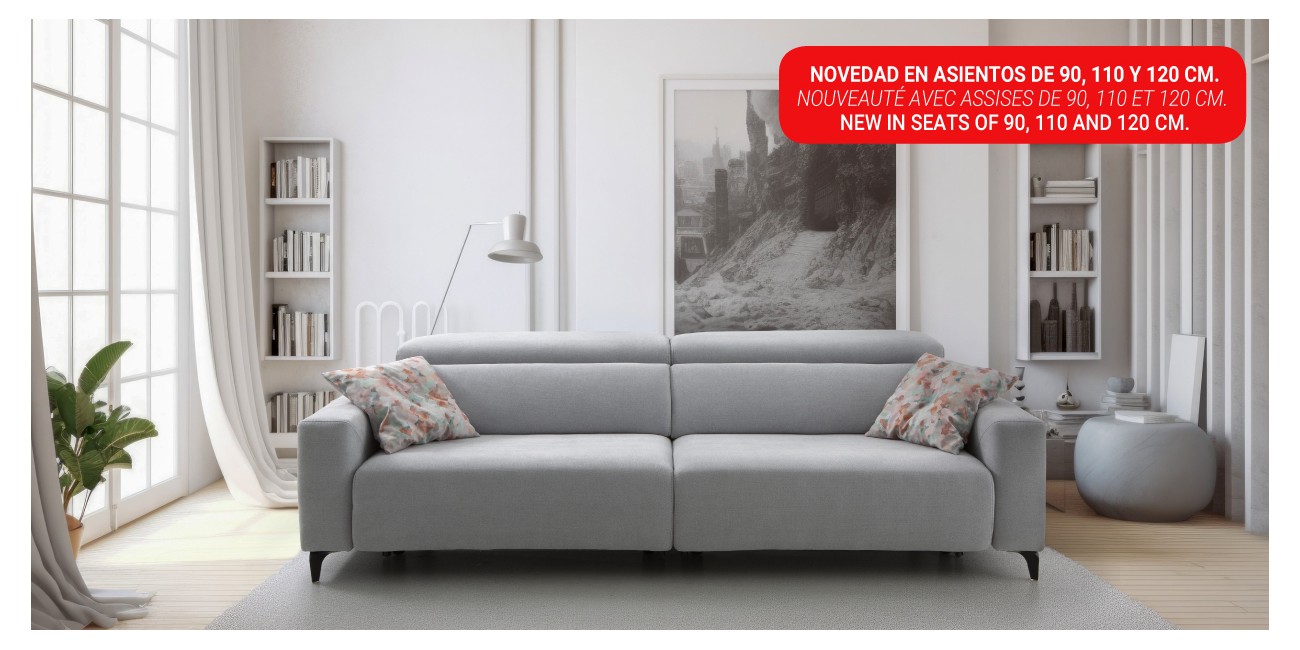  
NOVELTY!! WE EXPAND THE RANGE OF SEATS TO 90, 110 AND 120 CM.
The Noa sofa has a modern and minimalist design, with rounded organic shapes that offer a cozy and elegant look. The beautiful Noa sofa is much more than meets the eye. Discover its modern and timeless style.
Soft wherever you look at it, this sofa is made of 30 kg polyurethane foam. high density and firmness + 5 cm. viscoelastic, a detail that offers superior seating comfort and a balanced pressure distribution.
Its ergonomic backrests guarantee correct adjustment, a key and necessary aspect to achieve a comfortable and healthy posture. They are made of 25 kg polyurethane foam.
It has sliding seats that extend through a practical structure with wheels that rest on the floor, becoming a fantastic sofa to lie on. Optionally it can be requested with chest arms, providing extra storage and order.
It is offered in several different modules, which allows you to optimize space and create your ideal rest area. It can be chosen in different formats: 2-seater, 3-seater, chaise longue, and in different types of upholstery and colours. Do not miss this super novelty.
Data sheet
Structure

Solid pine wood, particle board and MDF Steel chassis on motorised relax models.

Seaters

Polyurethane foam of 30 Kg with removable covers. Soft... + 4 cm layer of viscoelastic.

Backrests

Removable covers in 25 kg polyurethane foam. smooth.

Cushions

Two 45 x 45 cm cushions. in compositions with chaise longue and sofas. A 45x45 cm cushion. in modules with 1 arm. (For extra cushions see auxiliary rate).

Mechanisms

High-leg trolley sliding seats, with wheels on the ground. Chrome 105o drop-down heads.

Finishings

Sewn with tab. By default, 12 cm metal legs. high matt black. Optional chromed metal leg.