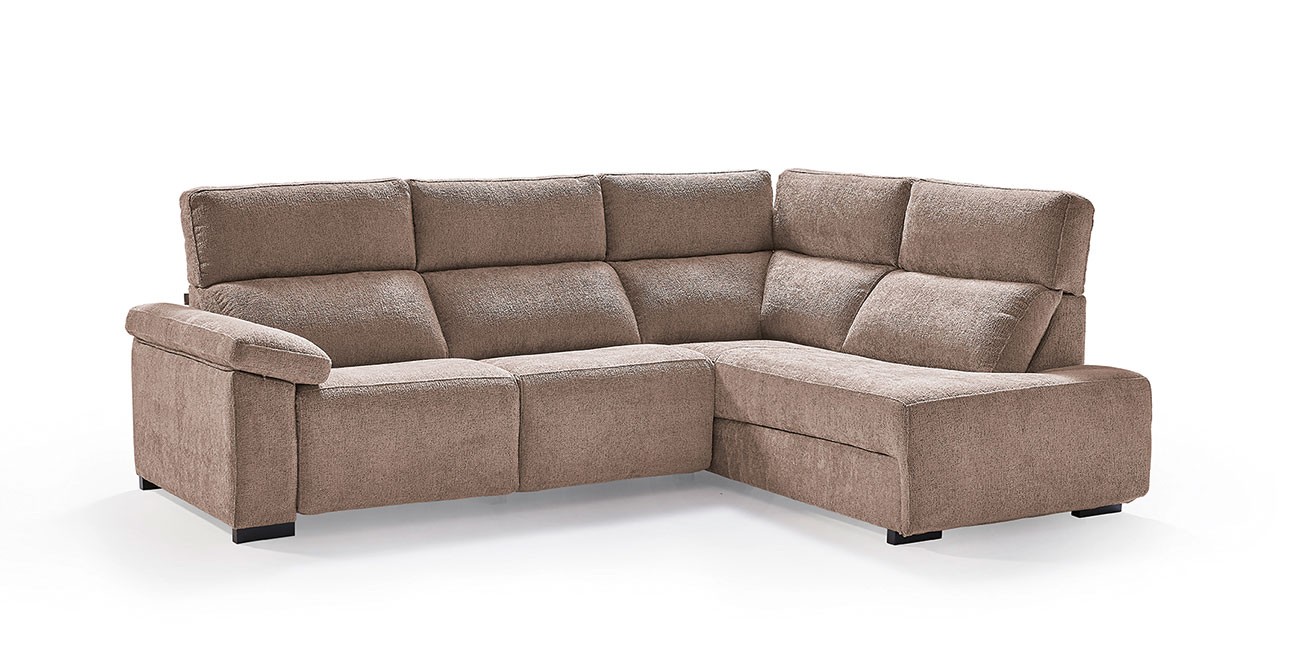  
The Tesla sofa boasts a contemporary and functional design with fixed seats, the relax modules (there are various dimensions) can be combined with fixed modules (which you can also find in different dimensions). One of the main characteristics are its super high fibre backrests of 105 centimetres, which take care of and fit your back and neck perfectly to offer you maximum comfort. Ideal for tall people.
You can combine it with the matching chaise longue chest which will enable you to store everything you want to and save space. In addition, the Tesla sofa has the option of choosing between different dimensions and arms such as arm with pouffe, with chest or with remote control holder.
The seats and backrests have removable covers, the fibre armrests are super comfortable and the foldable chrome headrests with multiple positions, ideal for watching television or reading. The feet are made of wood with different colour options to choose between: Wenge, Walnut or Natural Oak.
The sofa has decorative stitching on the headrests and armrests. There is the option of making this smooth, removing the decorative stitching. The compositions with chaise longue include two decorative cushions with bolster that fit perfectly to the arm of the chaise longue. Very functional when it comes to laying down or supporting the back. In addition, there are also matching pouffes with the Tesla model.
"A contemporary, elegant and super comfortable sofa thanks to its suuuper high fibre backrests, ideal for those who are looking for a complete rest in their living room."
Data sheet
Structure

Solid pine wood, particle board and DM. / Steel chassis in modules with motorized relaxation.

Seaters

Removable covers in 30 kg polyurethane foam. gentle.

Backrests

Removable headrests in 25 kg polyurethane foam. super soft. Non-removable fanny packs.

Cushions

For compositions and modules with fixed corner chaise longue 200 cm.: 3 cushions of 45x45cm. For compositions and modules with a fixed chaise longue of 170 cm: 2 cushions of 55 x 65 cm. The rest of the sofas and modules do not include decorative cushions.

Mechanisms

In seats with motorized relaxation mechanisms, "0 wall" and hidden button panel. 100° multi-point chrome folding heads ideal for reading and watching TV.

Finishings

Chromed metal legs. Option BLACK NICKEL legs of 12 cm. Tall. (increase of 3 net points per leg). Optionally BEECH WOOD legs (increment of 5 net points per leg).

Combination

FIXED MODULES CAN BE COMBINED WITH RELAX MODULES, BUT THESE CANNOT BE COMBINED WITH SLIDING MODULES.